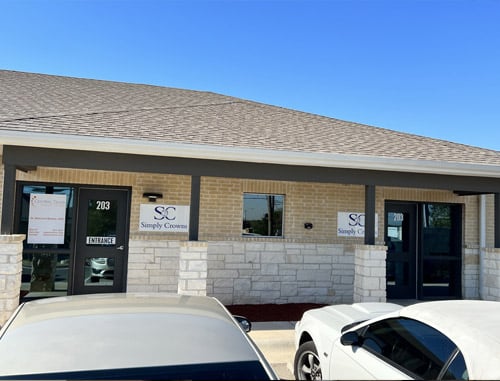 201 N. Heatherwild Blvd. Suite
#203 Pflugerville, TX 78660
Hours
Monday: 7:30 am – 3:30 pm
Tuesday: 7:30 am – 3:30 pm
Wednesday: 9:00 am – 6:00 pm
Thursday: 7:30 am – 3:30 pm
Friday: 7:30 am – 3:30 pm
I couldn't be more pleased With Simply Crowns! Everything about that place is awesome. I was able to get two crowns for the price of one at my dentist.
Dr Talebloo is great. Wish she could be my regular dentist. Their whole staff is professional and welcoming. I especially enjoyed Shawna and Nelson. Do not hesitate to go there if you are informed by your dentist that you are in need of a crown.
-Susan Plyler
just spend 24 minutes on hold and at 5pm get the message. "You've reached us after office hours", ugh, but Kyle called back the next day and did a great job taking my appointment. 2 visits in and the staff is super friendly, professional and done a great job so far. I'm very impressed with how they genuinely want to take care of you and this goes for every person so far I've had contact with. Going in, I thought, what's the catch? They are doing the work my dentist quoted (after insurance) at a lower price. Not only have I saved money, I've had a better experience with quality work. There's no catch. Great job Simply Crowns! I won't go anywhere else for a crown and BTW I drive 60 miles to them one way. It's worth it.
-Jimmy Howard
The staff were ALL so friendly that I felt at ease immediately. They were very quick and efficient with excellent result. I love my new crown. It is comfortable and looks amazing. I still can't believe the price in comparison with what my dentist quoted me. This was the best experience I have ever had with any dental work. I just referred a fellow teacher to go there and she agreed that they were so friendly, that she already felt better about having to go and get a new crown. Kind, friendly, amazing result! Highly recommended!!
-Lydia Varnier