Here's how it works. We use the best technology and the highest quality products to deliver beautiful, reliable dental crowns at an out-the-door price of $699.
At Simply Crowns, we offer our patients affordable crowns that won't break the bank and leave your smile feeling and looking healthy. Simply Crowns, our dentists are devoted to bringing our patients affordable crowns and have offices in Pflugerville, San Antonio, San Marcos, and Garland, TX!
A dental crown is a tooth-shaped cap or cover placed over a damaged or decayed tooth. Besides restoring the tooth's function and appearance, dental crowns can prevent further decay and damage. They can also hold a dental bridge in place or cover a dental implant.
There are numerous purposes for placing crowns. Some of the purposes for dental crowns include: 
Cracked or broken tooth:

If your tooth has broken or chipped, there is a high probability that you will need to get dental crowns. With damage, we cannot sufficiently strengthen or replace it with a filling. A crown might be able to save some of a cracked tooth. A bridge can also be held in place using it. By covering misshapen or severely discolored teeth, crowns can be used to improve appearance. 

Decayed tooth:

A severely decaying tooth can affect the surrounding teeth as well, thus causing a chain reaction of multiple decaying teeth. To help stop the spread and save your teeth, we recommend getting a dental crown to cover the decayed tooth and prevent the spread of infection. 
At Simply Crowns, Dr. Poest, Dr. Bhakta, and Dr. Talebloo are professional dentists here to ensure your oral health is always at its best!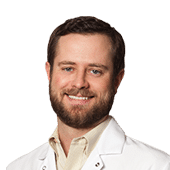 CO-FOUNDER – SIMPLY CROWNS
We founded Simply Crowns to bring the highest quality products to your smile.
The typical process takes two appointments. When scheduling your first appointment, you may choose to do a consultation only or have you consult and begin treatment the same day. At your first visit, your dentist will evaluate the need for a crown, discuss the treatment in detail, and answer any of your questions. Then if you choose to begin treatment that day, you will start your "prep appointment."
Your Simply Crowns dentist will give you a virtually pain-free anesthetic. We will take a mold of your teeth to fabricate your temporary crown. Your dentist will then prepare your tooth for the crown. This prep may entail shaving the tooth to fit the crown while removing decay, old crowns, or broken fillings. We will then take a digital scan with our CEREC machine to get the most accurate impression possible to send to our local Central Texas lab. Our team will make you a temporary crown and pick the perfect shade for your new crown.
After the laboratory has delivered the ceramic crown to your dentist, we will remove the temporary crown and clean the tooth. We will then place it on so that you can approve the esthetics, and we will take an X-ray to verify the perfect fit. Your dentist will then make any necessary adjustments and cement your crown. Lastly, we will clean and buff all excess cement, and you will be able to give your final approval of the fit.
How to Care for Your New Crown
Dental crowns are durable but still require proper care to last long. An essential part of maintaining dental crowns is brushing and flossing daily to remove food particles and plaque. It is also crucial to avoid biting hard substances such as ice or opening packages with your teeth. Regular dental checkups and cleanings can also help detect potential dental crown issues.
Affordable Crowns in Pflugerville, San Antonio, San Marcos, and Garland
Dental crowns are an excellent option for restoring damaged and decayed teeth. They help restore the tooth's function and appearance and can prevent further damage. At Simply Crowns, we pride ourselves on offering our patients the best dental care at affordable prices. We want you to feel comfortable at our dental offices and know you can get the care you need for a price that will not cause financial hardship. 
Please schedule an appointment with Simply Crowns today at any of our four locations: Pflugerville, San Antonio, San Marcos, and Garland! We also offer bridges, veneers, full-mouth smile makeovers, and more!
Make an Appointment Today!