The Best
Quality Crowns For the Lowest Price At Convenient Locations
We offer a full range of dental crowns!
Highest Quality, Lowest Price
Crowns, Implants & Bridges
No gimmicks, no upsell, no hassles
Highest Quality, Lowest Price
Crowns, Implants & Bridges
No gimmicks, no upsell, no hassles
Highest Quality, Lowest Price
Crowns, Implants & Bridges
No gimmicks, no upsell, no hassles
Pro Football Hall of Famer Deion Sanders joins the Simply Crowns family! Our winning team is excited to deliver your new smile! Get started today!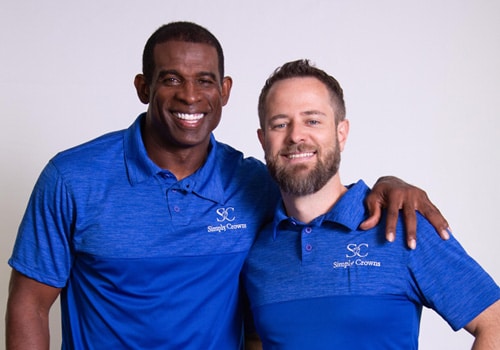 Garc4964 Garcia
2022-12-10
Awesome place and caring staff .Also was referred to an endodontist and I was able to save more $ ty simply crowns!!!!
Simply Crowns is a 10-Star dental provider. Dr. Talebloo is a very dedicated dentist and has great chair-side manners. She is very thorough explaining what needs to be done and her personality is awesome. I can tell she really cares about her patients and checked with me several times asking if I was ok and did I feel anything or hurt in any way. I have had several neighbors and friends that needed crowns and I referred them to Dr. Talebloo and all of them were so happy with her work. Please don't hesitate to call Simply Crowns. Dr. Post had a great vision for specialty dental needs and his staff is awesome. Kyle and Shawna were so nice and took great care of me, as well as other patients too. Their work is top quality and half the price of other dentist fees. Many patients are nervous about going to any dentist, but I can say that Simply Crowns makes you feel comfortable, which helps you deal with your nervousness. Thank you Dr. Talebloo. You are awesome!
Kristen Rayburn
2022-11-16
I love this place . I got 2 crowns last year and I recently got 2 vaniers. Staff and Doctors are Amazing..Great job..patient . The Denist called me to check on me the next morning. I love my new teeth.
margaret sherry
2022-11-09
Great staff. Did something I never thought I could afford. I am so happy with my new smile! The world needs to know about Dr Poest.
Caitlin Dugger
2022-08-16
I worked for Simply Crowns as a dental assistant for almost five years. They really are good people, and they do consistently high quality work. I had a great experience working there.
They are just so very personable, lovely and professional! Best prices in central Texas!
I couldn't be more pleased With Simply Crowns! Everything about that place is awesome. I was able to get two crowns for the price of one at my dentist. Dr Talebloo is great. Wish she could be my regular dentist. Their whole staff is professional and welcoming. I especially enjoyed Shawna and Nelson. Do not hesitate to go there if you are informed by your dentist that you are in need of a crown.
just spend 24 minutes on hold and at 5pm get the message. "You've reached us after office hours", ugh, but Kyle called back the next day and did a great job taking my appointment. 2 visits in and the staff is super friendly, professional and done a great job so far. I'm very impressed with how they genuinely want to take care of you and this goes for every person so far I've had contact with. Going in, I thought, what's the catch? They are doing the work my dentist quoted (after insurance) at a lower price. Not only have I saved money, I've had a better experience with quality work. There's no catch. Great job Simply Crowns! I won't go anywhere else for a crown and BTW I drive 60 miles to them one way. It's worth it.
The lady dentist was PHENOMENAL! She was literally able to numb the tooth and the surrounding teeth without my entire left side being Numb. Now I believe that takes precision and a certain level of expertise to do. I use to hate going to the dentist but now I have a little less fear. Thanks!